SUPRISE MONKEY BREAD DIABETIC FRIENDLY Recipe
Ingredients:
Ingredients:
I cup packed brown sugar ( diabetic use twins or splenda brown sugar )
½ cup butter ( diabetic use margarine )
2 tubes ( 12-oz each ) refrigerated flaky buttermilk biscuits
½ cup sugar ( diabetic use sugar substitute )
1 tbs. ground cinnamon
1 package ( 8-oz ) 1/3 less fat cream cheese, cut into 20 cubes
1 ½ cups chopped walnuts
Instructions:
Preheat oven at 350.
In a small microwave-safe bowl, heat brown sugar and butter on high for 1 minute or until sugar is dissolved; set aside.
Flatten each biscuit into a 3-inch circle. Combine sugar and cinnamon; sprinkle ½ teaspoon in the center of each biscuit. Top with a cream cheese cube. Fold ; pinch edges to seal tightly.
Sprinkle ½ cup walnuts into a 10-inch fluted tube pan coated with cooking spray. Layer with half of the biscuits, cinnamon-sugar and butter mixture and ½ walnuts. Repeat layers.
Bake at 350 for 40 – 45 minutes or until golden brown. Immediately invert onto a serving platter. Serve warm. Refrigerate leftovers. Yields: 1 loaf.
Serving size: 1 slice
Diabetic Nutrition Values: Calories per serving: 378, Fat: 10g, Cholesterol: 38mg, Carbohydrate: 42g, Sodium: 340mg
Note: This recipe can also be made with garlic and cheese that can be serve at dinner time.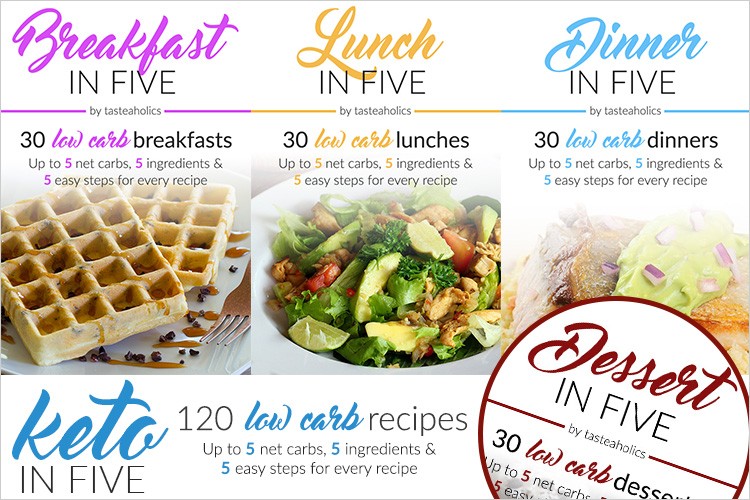 As you already know, the key to success is simplicity and satisfaction with your diet. I've been on Keto for a long time now, and these are the best e-cookbooks I could ever put my hands on: Breakfast in Five, Lunch in Five, Dinner in Five & Dessert in Five.
Each ebook contains 30 recipes. Every recipe is made with just 5 ingredients and has up to 5 grams of net carbs. That means you can have seconds of any meal and you'll still be within your daily carb limit!
If you're ready to invest a small amount of money to get your precious time and pleasure back, be sure to check it out.