SWEET-AND-SOUR PORK DIABETIC FRIENDLY Recipe
Ingredients:
Ingredients:
1 can ( 14-oz ) pineapple tidbits ( diabetic= no sugar added )
2 tbs. cornstarch
2 tbs. brown sugar ( or diabetic= twins or splenda brown sugar substitute )
¾ tsp. salt
¼ tsp. ground ginger
¼ tsp. pepper
1/3 cup water
1/3 cup ketchup ( diabetic= light ketchup or low-sodium)
2 tbs. white vinegar
2 tbs. soy sauce ( diabetic= low-sodium )
1 pound pork tenderloin, cut into 1 ½ -inch x ¼-inch strips
1 medium onion, chopped
2 tbs. canola oil or olive oil
1 green pepper, cut into thin strips
Hot cooked rice ( diabetic= brown or long-grain )
Instructions:
Drain pineapple, reserve juice; set aside. In a small bowl, combine the cornstarch, brown sugar, salt, ginger and pepper. Stir in the water, ketchup, vinegar, soy sauce and reserved juice until smooth.
In a large skillet or wok, stir-fry pork and onion in oil for 5-7 minutes or until pork is no longer pink. Stir pineapple juice mixture; add to skillet. Bring to a boil; cook and stir for 1-2 minutes or until thickened.
Add green pepper and reserved pineapple. Reduce heat; cover and cook for 5 minutes. Serve over rice.
I have modified this recipe to a diabetic friendly one also.
Nutrition: Calories per serving: 280, Fat: 6g, Sodium: 576mg, Cholesterol: 44mg, Carbohydrate: 32g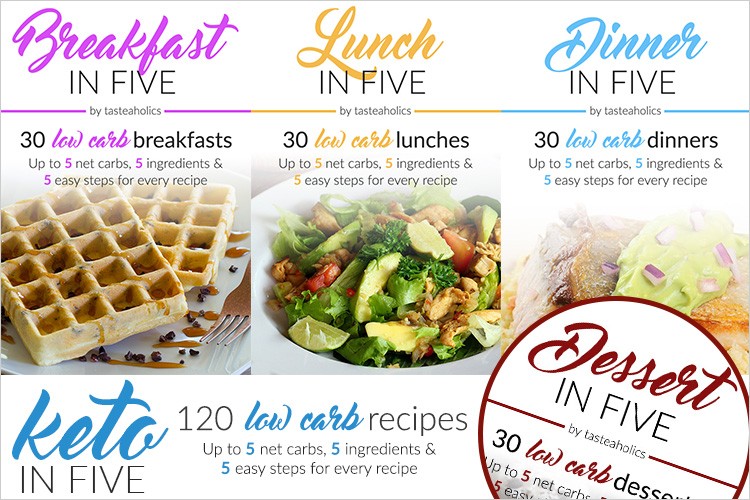 As you already know, the key to success is simplicity and satisfaction with your diet. I've been on Keto for a long time now, and these are the best e-cookbooks I could ever put my hands on: Breakfast in Five, Lunch in Five, Dinner in Five & Dessert in Five.
Each ebook contains 30 recipes. Every recipe is made with just 5 ingredients and has up to 5 grams of net carbs. That means you can have seconds of any meal and you'll still be within your daily carb limit!
If you're ready to invest a small amount of money to get your precious time and pleasure back, be sure to check it out.