Tomato & Dinner Roll Panzanella
SALAD BUFFET: Tomato & Dinner Roll Panzanella; String Beans with Mustard Dressing and Cured Shallots; Blue Potato & Green Onion Salad; Lemony Tarragon Chicken Salad
Tomato season is here! We know we can't resist all the tomatoes this time of year, and since we assume you can't either, all our August Recipe Flashes will feature them in an ode to the season. Here goes…
On Monday, as I was baking off a second vanilla cake layer for the birthday cake in yesterday's book photo shoot, I was listening to The Splendid Table, Lynne Rossetto Kasper's radio show, on podcast. Though the cake batter looked pretty good, and tasted even better, Lynne's go-to summer salad, which she described on air, sounded a whole lot more like lunch.
Bread Salad is hearty but simple, filling without being wintry, and as Lynne's description went on, I mentally compared her steps to what I had in my fridge. Leftover bread: check (dinner rolls from a recent catering event). Tomatoes: check (cherry tomatoes, from the farmstand). Spices: check. Oil: duh. Vinegar: of course. I followed the guidelines to the letter, moistening stale bread with water and vinegar, and seasoning tomatoes with oil and spices. Still, the beauty is that they are just guidelines; my salad is made-up, perhaps not much like any of Lynne's, and the variations on it are limitless.<
From my kitchen, albeit small, to yours,
Cara, THE QUARTER-LIFE COOK
**Recipe**
Tomato & Dinner Roll Panzanella
Serves 1
Ingredients
1 1/2 dinner rolls, torn into bite-sized pieces (or about ¾ cup of any torn bread)
2 teaspoons white wine vinegar
1 tablespoon olive oil
¼ teaspoon smoked paprika
¼ teaspoon salt
pinch red pepper flakes
2 tablespoons scallions, white and light green parts, plus more for garnish
about 1 ½ cups halved cherry tomtaoes
2 tablespoons crumbled feta
Arrange the bread in a bowl. Sprinkle with several teaspoons of water and the white wine vinegar, to moisten it. Set aside for 30 minutes.
Warm the olive oil in a small saucepan over medium heat. Add the paprika and red pepper flakes, and cook for about 2 minutes, until fragrant. Add the scallions and and salt, and cook until they're just wilted, another minute or two.
Place the tomatoes in the bowl you'll eat out of. Pour this oil over them, tossing to mix. Taste for salt. Add the feta and the moistened bread and toss to distribute evenly.
Grind black pepper over the top. Garnish with a few extra scallions if you'd like.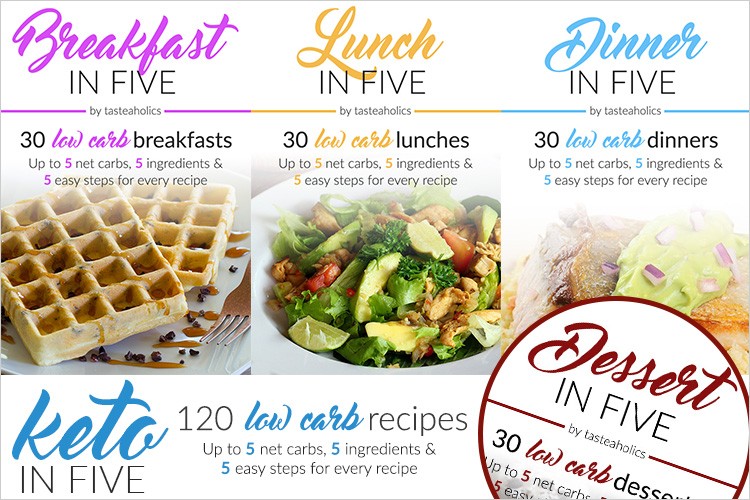 As you already know, the key to success is simplicity and satisfaction with your diet. I've been on Keto for a long time now, and these are the best e-cookbooks I could ever put my hands on: Breakfast in Five, Lunch in Five, Dinner in Five & Dessert in Five.
Each ebook contains 30 recipes. Every recipe is made with just 5 ingredients and has up to 5 grams of net carbs. That means you can have seconds of any meal and you'll still be within your daily carb limit!
If you're ready to invest a small amount of money to get your precious time and pleasure back, be sure to check it out.