"This delicate, rich dessert is based on a recipe my grandma often made. When I was a child it was my favorite dessert, and I requested it on a regular basis! The original recipe was packed with eggs and heavy cream. Here's a fail-safe vegan version that faithfully reproduces the taste of Grandma's holiday time specialty. Served in tiny espresso cups, it provides an elegant ending to any festive meal. Plus, you can make it the day before serving if you wish—always a bonus when entertaining." — Laura Theodore
Ingredients:
3⁄4 cup vanilla nondairy milk
12 ounces soft regular or silken tofu, drained and cubed
2 teaspoons brown sugar
1 cup vegan dark chocolate chips
Instructions:
Heat the nondairy milk in a small saucepan over medium-low heat until steaming hot but not boiling.
Put the tofu and brown sugar in a blender, then add the chocolate chips. Pour in the nondairy milk and process until completely smooth.
Spoon the mixture into tiny dessert bowls or espresso cups and refrigerate for 4 to 24 hours. Serve chilled.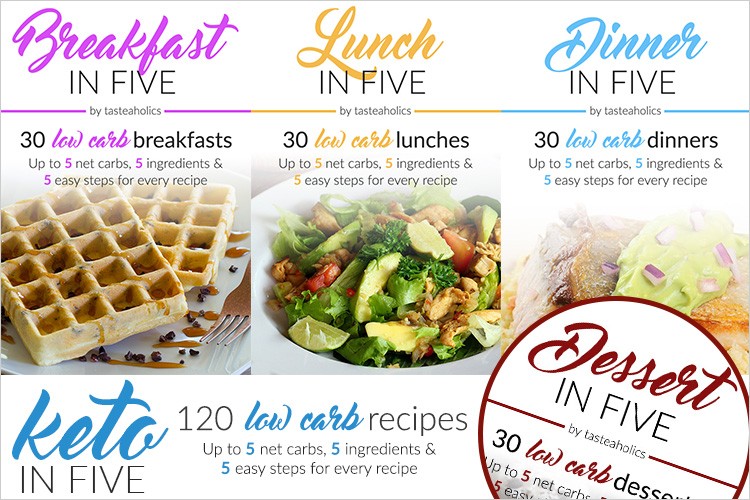 As you already know, the key to success is simplicity and satisfaction with your diet. I've been on Keto for a long time now, and these are the best e-cookbooks I could ever put my hands on: Breakfast in Five, Lunch in Five, Dinner in Five & Dessert in Five.
Each ebook contains 30 recipes. Every recipe is made with just 5 ingredients and has up to 5 grams of net carbs. That means you can have seconds of any meal and you'll still be within your daily carb limit!
If you're ready to invest a small amount of money to get your precious time and pleasure back, be sure to check it out.