Ingredients:
4 leeks (white and light green parts)
3 C. kale (chopped)
1 Tbsp. olive oil
28 oz. can whole tomatoes (I prefer fire-roasted in this recipe)
8 C. water
2 sweet potatoes, peeled and cut into 1/2″ dice
1/2 C. Lentils (brown or green)
2 Tbsp. fresh thyme leaves
12 fresh basil leaves
2 tsp. salt
1/4 tsp. pepper
1/4 C. (1 oz.) grated parmesan
Directions:
1. Slice each leek in half lengthwise, and then slice each half into 1/4″ thigh half-moons (apx. 2 cups). Place in a large bowl of cold water and swish to remove any grit. Drain and pat dry.
2. Remove the stems from the kale, stack the leaves on top of one another and slice them crosswise into 1/4″ wide strips.
3. Heat oil in a saucepan over medium heat. Add the leeks and cook for 3 mins. Add the tomatoes and cook, breaking them apart with a spoon for 5 mins. Add the water and bring to a boil. Stir in kale, sweet potatoes, lentils, thyme, salt, pepper and basil. Simmer until lentils are tender, about 30-40 mins.
4. Spoon into bowls and sprinkle with parmesan.
Serves 6.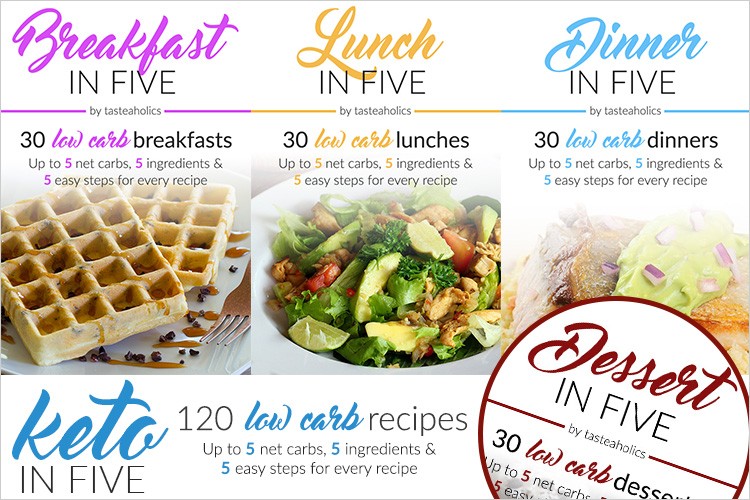 As you already know, the key to success is simplicity and satisfaction with your diet. I've been on Keto for a long time now, and these are the best e-cookbooks I could ever put my hands on: Breakfast in Five, Lunch in Five, Dinner in Five & Dessert in Five.
Each ebook contains 30 recipes. Every recipe is made with just 5 ingredients and has up to 5 grams of net carbs. That means you can have seconds of any meal and you'll still be within your daily carb limit!
If you're ready to invest a small amount of money to get your precious time and pleasure back, be sure to check it out.