Reviews
I tried this and it was amazing. Very moist. I did tweak a little by adding vanilla, nutmeg, 1/2 cup of brown sugar and 1/2 cup of white sugar and two kinds of chocolate chips, semi sweet and dark chocolate. My family can't stop eating it.
This recipe worked out really well as muffins. I baked them for 22 minutes at the prescribed temperature. Very moist and fluffy. We'll make them again. 🙂
This bread was excellent. I also followed everyone's advice and used 1/2 brown (I actually used dark brown) and 1/2 white sugar. I added a 1/2 teaspoon more cinnamon, 2 teaspoons vanilla and used 4 bananas which I believe made it just that more moist and delicious (not to mention I had 8 bananas I wasn't going to eat and didn't want to throw away 2). I ended up making 2 loaves and added walnuts to one. Lastly, I used a metal pan coated with unsalted butter for each loaf, turned the oven off at 55-60 minutes and let it continue baking while cooling which prevented the burnt or hard outside while also not sticking to the pan. I will definitely keep this as a favorite and make it again!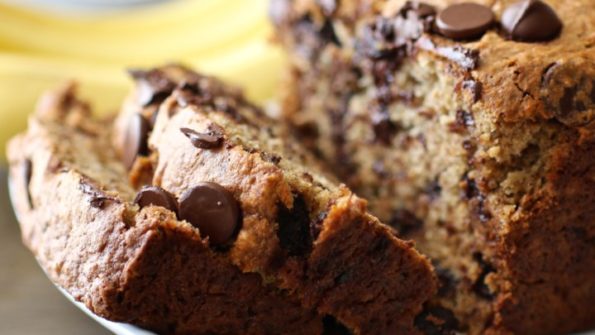 "Super amazing banana bread. Moist and tasty!"
2 cups all-purpose flour
1 teaspoon baking powder
1 teaspoon baking soda
1 teaspoon salt
3 ripe bananas, mashed
1 tablespoon milk
1 teaspoon ground cinnamon, or to taste
1/2 cup butter, softened
1 cup white sugar
2 eggs
1 cup semisweet chocolate chips
Directions
Preheat oven to 325 degrees F (165 degrees C). Grease a 9×5-inch loaf pan, preferably glass.
Mix flour, baking powder, baking soda, and salt in a bowl. Stir bananas, milk, and cinnamon in another bowl. Beat butter and sugar in a third bowl until light and fluffy. Add eggs to butter mixture, one at a time, beating well after each addition. Stir banana mixture into butter mixture. Stir in dry mixture until blended. Fold in chocolate chips until just combined. Pour batter into prepared loaf pan.
Bake in the preheated oven until a toothpick inserted into the center comes out clean, about 70 minutes. Cool in the pan for 10 minutes before removing to cool completely on a wire rack before slicing.