Easy Beef Brisket! How to cook beef brisket in oven, slathered in a mixture of BBQ sauce and soy sauce, wrapped in foil, and baked until falling apart tender. This beef brisket is simple and delicious.
Beef Brisket in the Oven!
Looking for an easy way to prepare beef brisket and still impress your friends? This is it! Bake the brisket in the oven. What's crazy, is how good it is given how ridiculously easy it is to make.
How to Cook a Brisket in the Oven
There really is no easier way to prepare a beef brisket than this oven-baked version. With just a handful of ingredients including the beef brisket, an oven, and few hours, you have amazing brisket that took very little effort.
Mix together some barbecue sauce, soy sauce, and water
Slather the beef brisket with the sauce
Wrap the beef brisket in aluminum foil
Bake brisket in oven for several hours, until it's falling apart tender
Slice across the grain
When the brisket is done, you'll want to let it rest for 30 minutes before slicing to serve. You'll want to make slices across the grain of the meat to break up the muscle fibers and make it even easier to eat.
Can't get enough brisket?
Beef Brisket Pot Roast
Pressure Cooker Beef Brisket
Easy Beef Brisket Recipe
Ingredients
3 to 4 lbs of a brisket cut of beef
3/4 cup barbeque sauce
1/4 cup soy sauce
1 cup of water
Method
1 Preheat oven to 300ºF.
2 Make the sauce: In a bowl, mix together the barbecue sauce, soy sauce, and water.
3 Roast the brisket in the oven (2 methods):
Foil method: Place the brisket roast on a large piece of aluminum foil. Spread the BBQ sauce mixture generously over meat. Wrap the brisket in aluminum foil and place it in a roasting pan.
Bake for 3 hours for a 3 pound roast and 1 more hour for every additional pound of meat.
OR, instead of foil, you can use an oven roasting bag:
Oven roasting bag method: Place the barbecue sauce and the brisket in an oven roasting bag. Sprinkle a teaspoon of flour into the bag. Poke a couple small holes in the bag. Place the bag in a roasting pan. You may find that the cooking time is faster with this method, or you can reduce the oven temperature to 275°F.
4 Let the brisket rest: Remove from oven and let rest in the foil for 30 minutes before serving.
5 Slice across the grain of the meat: The easiest way to serve the roast is to first cut it in half along the grain of the meat (poke the meat with the tip of a knife or tines of a fork to see which way the grain or lines of the muscles are going if you can't see it from the surface).
Then make 1/4-inch to 1/2-inch thick cuts across the grain to serve. (Cutting the meat across the grain will make it much easier to eat, as the cuts break up the muscle tissue.)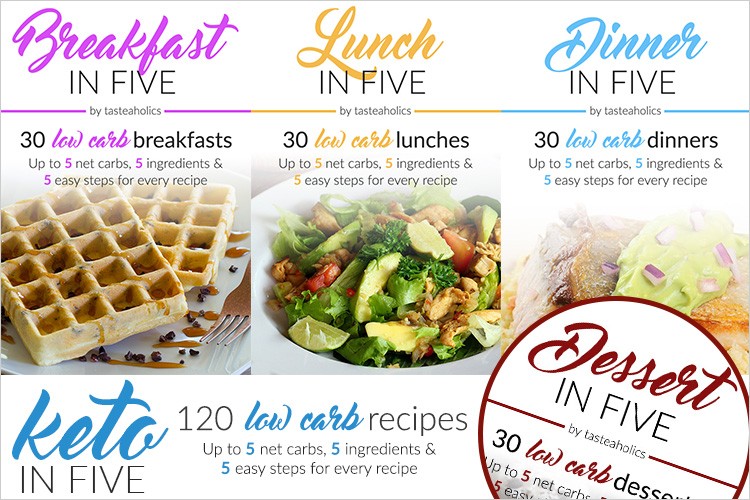 As you already know, the key to success is simplicity and satisfaction with your diet. I've been on Keto for a long time now, and these are the best e-cookbooks I could ever put my hands on: Breakfast in Five, Lunch in Five, Dinner in Five & Dessert in Five.
Each ebook contains 30 recipes. Every recipe is made with just 5 ingredients and has up to 5 grams of net carbs. That means you can have seconds of any meal and you'll still be within your daily carb limit!
If you're ready to invest a small amount of money to get your precious time and pleasure back, be sure to check it out.