LEMON CAKE 😋
INGREDIENTS
For the whisk:
50g lemon juice
1 teaspoon lemon zest
30g vegetable oil
4 eggs
120g of sugar
120g of flour
4 g baking powder
For the lemon filling:
3 eggs
135g lemon juice
1-2 teaspoons lemon zest
190g of sugar
10g corn starch
For the cheese filling:
400 g whipping cream
80g powdered sugar
200g cream cheese
1 teaspoon vanilla extract
For the syrup:
100g of water
60g sugar
15g lemon juice
INSTRUCTIONS
1. In a bowl, mix the lemon juice, zest and oil.
2. Beat the egg whites and gradually add sugar. Then add the egg yolks as well.
3. Apart mix flour and baking powder. Sift them and add them to the dough.
4. Lastly, add the lemon juice mixture from before.
5. Pour the dough into a mold (20 cm in diameter) and bake in a preheated oven at 160° for 35 minutes.
6. In a saucepan, mix the eggs, lemon juice, lemon zest, sugar and cornstarch.
7. Cook the cream on the stove, stirring continuously until thickened.
8. Sieve the cream and let it cool covered with some plastic wrap.
9. Whip the cream with sugar, then add cream cheese and vanilla.
10. Refine the cake and cut it into 3 equal layers.
11. Moisten the cake with a syrup made from water, lemon juice and sugar.
12. Assemble the dessert by filling the cake with both lemon cream and cream cheese.
13. Use the cream cheese to cover the entire cake as well, then chill in the fridge for 6 hours.
💯💞⬇⬇
black jungle cake

Ingredients:
8 Eggs..
200 grams of flour.
300 grams of sugar
50 g bitter cocoa
For the filling and decoration
cherries w/w
500ml Milk Cream
425 gr icing sugar
300 g semi-sweet chocolate
Cherry Liqueur or another that they have
1 Teaspoon vanilla extract
Preparation:
-Mix the Eggs with the Sugar. bat to point lyrics
-Add the flour and Cocoa previously sifted and mix gently
-Preheat the oven to 180°C (moderate). Butter and flour 3 medium molds.
-Divide the mixture into 3 equal parts and pour into the molds. Bake for 15 minutes and let cool.
-While the cake cools, beat the Milk Cream, Vanilla and icing sugar. Beat until you can form stiff peaks.
-For the assembly of the cake, place the first sponge cake on the base, then bathe with Cherry Liqueur then pour a little of the Cream and finally Cherries. Repeat the procedure 2 times.
-Finish with a layer of Cream and decorate with Cherries and Chocolate.
Moist Coconut Macaroons Recipe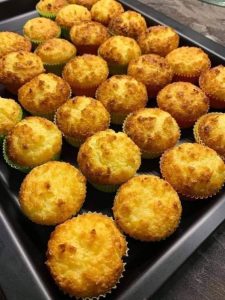 Try this Filipino version of coconut macaroons
Ingredients:
1/3 cup butter, softened
3/4 cup sugar
2 eggs
1 can (14 ounces) sweetened condensed milk
1/2 teaspoon vanilla extract
1/2 cup flour
2 cups desiccated coconut
Instructions:
Line mini muffin pans with paper cups. Set aside.
In a bowl, cream butter using a hand mixer on low speed.
Add sugar and beat together until well blended and fluffy.
Add eggs one at a time, beating well after each addition.
Add condensed milk and vanilla extract and continue to beat until blended.
In a medium bowl, combine flour and desiccated coconut. Add to the egg mixture and beat until combined.
Scoop into the prepared muffin pans and bake in a 350 F oven for about 15 to 20 minutes or until golden and a toothpick inserted in the center comes out clean.
Remove from baking pan and let cool on a wire rack for about 5 minutes.